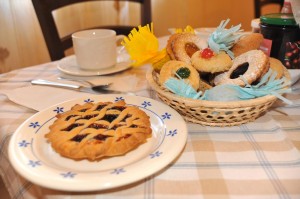 Cordiality, friendliness, heartiness and overall a quality accomodation are our highpoints. We deeply love our land its nature and wild animals, that's why we are always happy to give tips that can be helpful to anybody who wants to discover the most beautiful landscapes of Southern Sardinia.
Our aim is to encourage green tourism with a soft impact on the environment, in order to show the beauty of our sea, mountains and country-side. It's interesting to learn the history of our old Island, our traditions and the past mining activity underground.
We keep our memory as a big cultural heritage and we bear it in mind because we want to tell everything to our children and to our new friends. With this purpose, our Bed & Breakfast offers more than just hospitality, but makes our guests' stay in our family a big quality experience.